The register your child: Child Registration
Youth and adult volunteers are needed:   Youth Volunteer Signup and Adult Volunteer Signup
Thank you for bringing your children to Sunday School. It is one important ministry for teaching God's children that have been place in our care how to live as disciples of Jesus and members of our church. Please take a few minutes to complete this form to help evaluate our year. ALL feedback is important and welcome and optional – you can leave any blank that you don't wish to respond to. Thank you!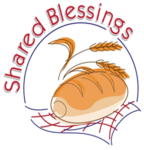 If you or a group you're in would like to help with Shared Blessings, please sign up using our online form. Shared Blessings is a free meal served from 11:00-Noon each 2nd, 4th, and 5th Saturday of the month.
Subscribe to Upper Room Daily Devotional by Email
The Upper Room daily devotional is available by email. After subscribing you will receive an email daily with the content of the devotional and a link to the daily scripture. Subscription is free. To signup visit the Upper Room Daily Devotional website, and click the "Subscribe to The Upper Room daily devotional, North America by Email" link.
Click the "Give Now" button in the upper-right corner of the website to give securely to the church through your checking or savings account or credit/debit card.