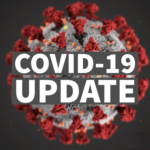 The Leadership Council met and discussed the re-opening of our church for in-person worship and other group activities. It was decided that we would continue with online worship and not open the doors until at least July 1. As the month of June progresses we will monitor the situation and let you know if there are any changes. In the meantime, if you are in need of any assistance, please reach out to the church office and we will help in any way we can. Conversely, please reach out to, and check in on others in the community that may be in need of assistance or just simply need to talk.
This situation is very fluid and things can change quickly. This site is the best place to stay current, so check back often. Unfortunately without a regular in-person service, our weekly giving drops significantly. But, the bills keep coming in. Therefore, we ask that you click on the "Give Now" button above and make your regular offering to cover expenses through April as you would normally contribute. Or, if you would prefer, you can always mail in a check or drop it off at the office since we are maintaining regular office hours of Monday – Friday, 8:00 until noon. Our overall goal is to continue to have a local and global influence and impact. You're contributions go to meet that goal. Thank you for being an active and faithful member of our church community. You are a valued member of our church family.

Dear God, we know that you are a healing God and that you desire for all of us to be whole and healthy human beings. We ask that you be present to our one human family at this time of crisis. Please walk beside doctors and nurses who are caring for those who have been infected by the coronavirus and give them strength for the day ahead. We also ask that those who are receiving treatment and feel isolated or hopeless would experience your healing power as they recover. Protect all families around the world, and may we continue support one another as lives and plans are disrupted. Most of all, use us as instruments of your peace and hope. Amen.