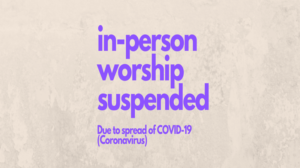 Dear Friends,
After much prayer, thought, discussion, and direction from the Conference it has been decided that we need to shut the church down for the safety of our members. I want you to know that
this was a very hard decision to make, and even harder after our worship on Sunday. Worship on Sunday had such a lovely spirit and I think all of us were blessed to be there. But hard decisions
need to be made and for now our decision is to be closed. I am asking that small groups and councils not meet at the church either.
Please know that I continue to be your pastor and if you have any needs (prayer, counseling, visiting, etc.) I invite you to call me. During this time, I invite us to be in prayer, stay connected to God, and continue to check on one another.