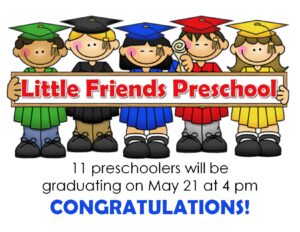 Signing up to be a Sunday Servant is easy.
Just click on the link,
scroll down to the date that you can help and
click on the button beside the job you can help with.
If you have issues, please call the church office.
It's time to start thinking about summer camp!
Check out some of the great camps we have here
in Iowa and get registered!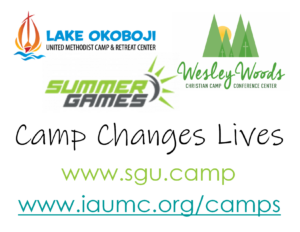 Little Friends Preschool is now accepting applications
for Fall 2023. Choose from Tues–Thurs or Mon–Wed–Fri
Registration Deadline is August 1
Little Friends Preschool is for 3 to 4-year-olds
ABC Jesus Loves Me Curriculum AND academic studies.
Classes are 9:00–11:30 am
This is open to ALL who are interested
Scholarships available
Questions Call or Email
Little Friends Preschool
563-886-2331
http://www.tiptonumc.org/
First United Methodist Church
607 Lynn St.
Tipton, IA 52772
http://www.tiptonumc.org/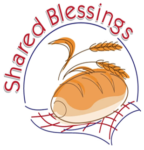 If you or a group you're in would like to help with Shared Blessings, please sign up using our online form. Shared Blessings is a free meal served from 11:00-11:45 am each 2nd, & 4th Saturday of the month.
Subscribe to Upper Room Daily Devotional by Email
The Upper Room daily devotional is available by email. After subscribing you will receive an email daily with the content of the devotional and a link to the daily scripture. Subscription is free. To signup visit the Upper Room Daily Devotional website, and click the "Subscribe to The Upper Room daily devotional, North America by Email" link.